Admissions
For September 2024 Nursery and Reception entry (and for in-year arrangements from September 2023)
Welcome to our Admissions page.  This short video provides a taste of Selwyn life – we hope you enjoy watching it.  You might also be interested in reading what our parents, our staff and our children said about our school in our survey earlier this year – go Team Selwyn!
Our school is part of Newham Community Learning, a local Trust of six schools.  As the admissions authority, the Trust Board has adopted the Local Authority's admissions arrangements, which means that all applications must be submitted via the borough's process.  This was formally agreed at the Board's meeting on 16 March 2023.  If you live in Newham, you apply via LB Newham Pupil Services.  If you live outside Newham and you want your child to attend this school, you need to apply via your home borough naming this school as a preference on your application.
The adopted Determined Admissions Arrangements for September 2024 entry are available here.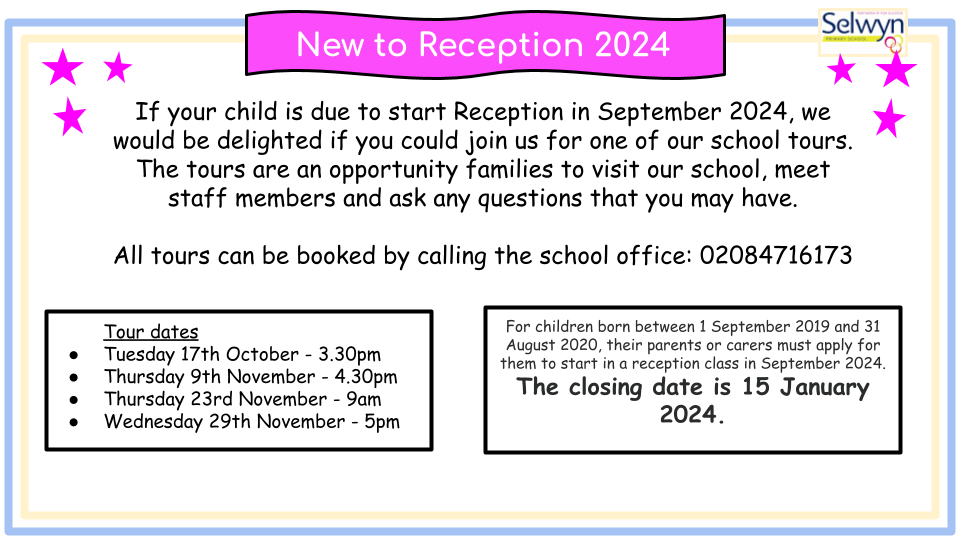 As at 04 September 2023, Newham has published We are going to school – this is the composite prospectus for ALL nursery, infant, junior and primary in year admissions from September 2023, and for all new admissions from September 2024.
For our children in year 6 this academic year, We are going to secondary school is the composite prospectus for all secondary school admissions in Newham for September 2024 entry.
Should you need any help or guidance, please feel free to speak to our Front Office staff at any time.
Last reviewed in September 2023